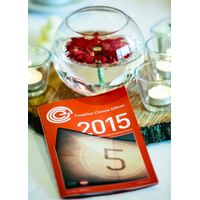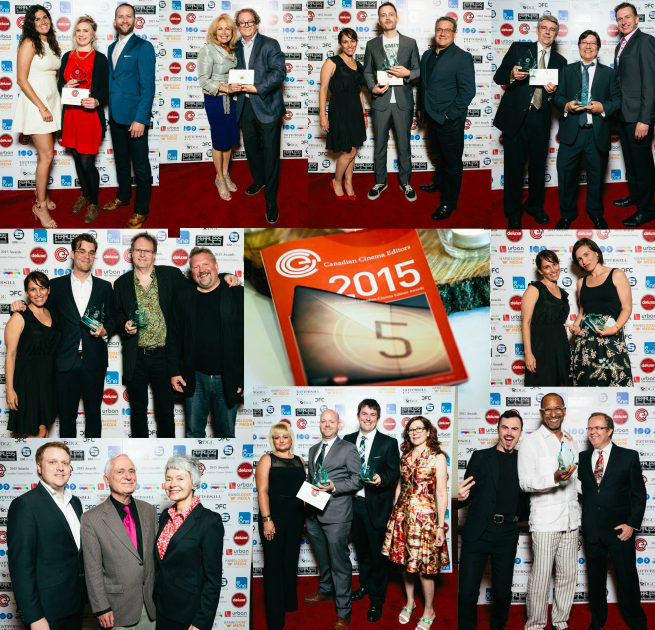 Our 2015 awards was a big night as we celebrated out 5th Awards. We were also at the new location of the Delta Hotel on Lower Simcoe. It provided us with a bigger and better venue with superb views of the CN Tower.
"Winning a CCE award was great not only because I really like this organization but because, after many nominations over many years, this was the first time that I have ever won an editing award. It broke a very long losing streak and paved the way for my CSA win - also for Schitt's Creek - later that year. Thanks to the CCE my Susan Lucci days are over!" - James Bredin
BEST EDITING IN LIFESTYLE/REALITY/FACTUAL
Jonathan Dowler, Al Manson, Kyle Martin, Ben O'Neil & Steve Taylor - The Amazing Race Canada: Episode 205
BEST EDITING IN SHORT FILM
Adam Locke-Norton - Entangled
BEST EDITING IN LIVE ACTION WEB SERIES
Geoff Ashenhurst, CCE - Whatever, Linda episode "No Boys Allowed."
FOR BEST EDITING IN ANIMATION
Jamie Ebata & Dan Lee - The Day My Butt Went Psycho: Episode 23
BEST EDITING IN HALF HOUR BROADCAST SHORT FORM
James Bredin, CCE - Schitt's Creek, Don't Worry It's His Sister
Matthew Hannam, CCE - Sensitive Skin: Episode 106
BEST EDITING IN TELEVISION MOVIE OR MINI-SERIES
Kye Meechan - The Book of Negroes: Episode 1
BEST EDITING IN FEATURE LENGTH
Matthew Hannam, CCE - James White
BEST EDITING IN DOCUMENTARY
Ricardo Acosta, CCE - Marmato
BEST EDITING IN LONG FORM TELEVISION SERIES
Christopher Donaldson, CCE - Penny Dreadful: Episode105, Closer Than Sisters
2015 CCE STUDENT MERIT AWARD
Jacob DoForno from Humber College For "Happy Endings"
Dylan Lattimer from the University of Toronto For "Fragility"
Margaret MacDougall from Sheridan College For "Her Shadow"
Neena Malebennur from Humber College For "In Focus"
Mitch Theriault from Sheridan College For "Battles and Brotherhood"
---