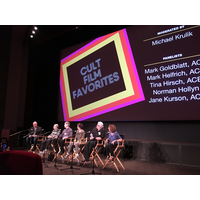 This year's EditFest event was held on a single day in August in Burbank, California at Disney Studios. I especially enjoyed my time at Disney as it conjured warm childhood memories of the many wonderful animated films that left such an indelible impression on me as a child. Indeed the entire studio is steeped in a sense of nostalgia, from it's art deco design to the many artful depictions of classic films lining the walls.
The event itself was held inside the beautiful Disney Screening Theatre, bringing together editors and post production enthusiasts from all over the world to enjoy a day of candid conversations with industry veterans about the craft of editing and the experience of working, and succeeding, in Hollywood.
The day began with "Cutting in Hollywood", a panel discussion assembling a lineup of seasoned editors of both film & television to discuss their careers and in particular some of their personal learning experiences, illustrated by excerpts from their respective films. Editor John Axelrad, ACE discussed his multi-film collaboration with filmmaker James Gray and shared insights into how they surmounted challenges in the film Two Lovers through clever use of ADR and coverage to essentially re-write scenes in the Avid. Zene Baker, ACE shared the challenges of editing an epic party scene from the film Neighbors, Barbara Gerard provided insights into editing the series Supergirl, and the emphasis on emotion over dialogue in trimming scenes. Finally editor David Rogers, ACE shared his fascinating journey from editing The Office to editing, directing and executive producing The Mindy Project and the many challenges therein.
The day continued with a series of entertaining panels. "Cult Film Favorites" brought together editors Mark Goldblatt, ACE (Terminator, Starship Troopers) Mark Helfrich, ACE (Showgirls), Tina Hirsch, ACE (Death Race 2000), Norman Hollyn (Heathers) and Jane Kurson, ACE (Beetlejuice) to regale us with stories of their adventures working on films that would become classics with such visionary directors as James Cameron, Tim Burton, Roger Corman and Paul Verhoven.
A one on one conversation that followed between author Bobbi O'Steen (wife of the late, legendary editor Sam O'Steen) and editor Michael Tronick, ACE was among the day's highlights. "Inside the Cutting Room" shone a light on Michael's fascinating career, from his days as a music editor in the late 1970s and early 80s for such heavyweights as Bob Fosse (All That Jazz) and Warren Beatty (Reds), before making the move to picture editing in 1987 with Beverly Hills Cop II, a career now spanning 36 films including Scent of A Woman, True Romance and culminating in this year's Straight Outta Compton.
The event concluded with "The Lean Forward Moment", a fascinating discussion about how we seek as filmmakers to engage the audience emotionally. Panelists brought a wealth of experience ranging from big budget studio tent poles in Jeffrey Ford, ACE (Iron Man 3, Captain America: Civil War, The Avengers) documentaries in Kim Roberts, ACE (The Hunting Ground, Waiting for Superman), independent films in Kevin Tent, ACE (Citizen Ruth, Election and all of Alexander Payne's subsequent films) and television in Susan Vaill (over 70 episodes of ABC's Grey's Anatomy).
At day's end, attendees were invited outside for a cocktail hour where we could mingle with the panelists and swap stories of our own experiences. I was lucky enough to speak with several of our guest editors, to admittedly geek out on some of their films, pick their brains and thank them for sharing their many insights with us. As someone who has a desire to one day work in Los Angeles I was so grateful for the opportunity.
My time at EditFest was incredibly inspiring. To hear editors at the very top of the industry talk candidly about their process was a privledge. Every editor in the room could certainly relate to these stories in their own unique way, and I left feeling both encouraged about my own work and resolved to work even harder in the future. Indeed, thinking about the wealth of talent and experience we have here at home I believe more than ever that our editing communities in Toronto, Vancouver and throughout the country could benefit greatly from an event like EditFest. In speaking with some senior members of our CCE community I know they feel the very same way so I look forward to one day soon celebrating it's inaugural year!
Lastly, I have to sincerely thank both the CCE and DGC Ontario for giving me the chance to attend such an amazing event. I am tremendously grateful for the opportunity and I can't wait to do it again!
Jonathan Eagan
---