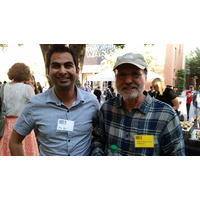 My summer started off with a bang when I won the Canadian Cinema Editors LA EditFest prize.
When I arrived at Disney Studios the place looked amazing and I knew the day would be great. The auditorium was packed with Editors who wanted to learn from legends. The agenda for the day started off with a panel discussion called "Cutting in Hollywood". Each panel member described their path to becoming an Editor, personal learning experiences and obstacles they faced. They showed clips of films they've worked on and described their cutting techniques.
The next discussion panel was called "Cult Film Favourites". This panel included legends such as Mark Goldblatt who was nominated for an Oscar for this work on Terminator 2: Judgement Day, Mark Helfrich, known for editing Showgirls and legend Tina Hirsh who edited Death Race 2000 and other classics. It was a great learning the editing history of some of my favourite movies.
After lunch was a one-on-one with Michael Tronick, Editor of Scent of A Woman and Straight Outta Compton, among others . He discussed how he became an Editor and how he felt being hired to edit a movie that already had an Editor.
The last panel was the most interesting. This panel showed clips from their favourite movies which inspired them to edit. This part of the day was most relatable to me.
Once the discussion panel was done, we headed outside for h'dourves and drinks. At this time, I had a great conversation with Mark Goldblatt, the Editor of Terminator 1 and 2. He shared with me his great knowledge which I will always treasure.
Overall, I had a great time at Editfest learning new tips and techniques while also meeting legends. I would like to thank the CCE for making this possible.
---